Welcome to the

Nottinghamshire
Firefighter's Memorial Site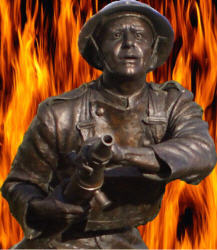 This site is dedicated to the memory of those who gave their life in the Fire Service and Civil Defence organisations based within the City and County of Nottingham.
An appeal was initiated by a group of retired Nottinghamshire Firefighters who, inspired by the research and writing of David Needham in the production of his book "BATTLE OF THE FLAMES", set out to erect a monument to the memory of those who gave their life in the service of the people of this area.
Dedicated to "Heroes with grimy faces", a quotation from Winston Churchill referring to Firemen and Women during the Blitz, the idea became a reality on 9th May 2013 when the memorial was unveiled by H.R.H The Princess Royal in the Church Yard of St. Mary's Church in the heart of the historic Lace Market area of Nottingham.
Please enter the site to discover more about those that we remember, the story of the memorial and those who made it possible.

Our thanks go to Steve Potts of Andante UK who is hosting this web-site for us.
web master Alan Yeo
August 20, 2014
©Nottinghamshire Firefighters Memorial 2013